It's been a pretty boring week/weekend.
We had a poker night at a friend's house which turned into the husbands gaming while the wives played with the kiddies. Good times and lots of junk food. Mmmm.
Let me tell you about my Sunday. *sigh* Hubby had staff duty, so it was just a day of me, the kiddos and this crazy ass puppy. My son decided he wanted to smash his marshmellows and when I ask him WHY he would do such a thing, he says, "I was rolling them up, mom" *sigh* My coffee table, a blanket, a wet wipe case, his face, his tummy, his hands, his legs, the dogs ear, the dogs body and my toilet seat ALL needed a good hard scrub. *sigh*
Then my darling daughter decided she wanted to spill her juice everywhere…. RED juice. Tan carpet. *sigh* Let me pause right here and thank my dear friend, Emily for letting me borrow her mini steam cleaner while putty training puppy…. (it's been used more times for kids' messes than for puppy messes) Again, *sigh*

So, I've been window Christmas shopping. Usually we are pretty much screwing ourselves financially when it comes to Christmas. We have a bday in August, September and October. Then with Thanksgiving being in November, and Christmas in December… *phew*
How do you Christmas shop?! We usually get a big present for one kid and a small for the other on one payday, swap on the next, then just 2 little presents each other payday and then random stocking stuffers and wrapping paper and all that in between.
Also, when do you start decorating?! Most people I've asked say AFTER THANKSGIVING…. Yesterday while driving around, we saw trees up already and some decorations up. Something about Alaska just makes you wanna decorate early!! I am ACHING to start decorating, but I know A: hubby would give me a hard time about it and poke fun at me and B: puppy would have a FIELD DAY with all the new stuff to chew.
Oh, speaking of chewing… *sigh again* Puppy used one of baby girl's little purse straps as a chew toy. GRRRRR. I went to the PX over the weekend and picked up two chew ropes, a bouncy tennis ball, a squeak ball and a little stocking full of puppy toys (a hamburger squeaker, a rope, a bone squeak toy and something else, can't remember) all for under $10!! If you have a PX near you, check out the little clearance section in front (at least ours is in front, when you first walk in). Lots of little cheapo Christmas stuff and some leftover Halloween stuff and random little things. I also picked up the kids some Slinky's!! $1 each!! And they LOVE them!! I walked out the px spending like $20!! It was pretty fantastic!! YAY PX!!
**30 minute break to detangle a Slinky…. i no longer love them**
Anyway, it's been snowing all weekend. Lightly of course, but really pretty!!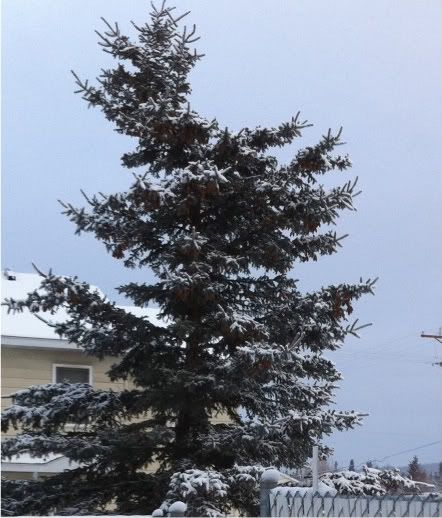 This is a tree in my backyard (over the fence of course)
Did you notice Tuesday's low?! Holy cow, I think winter is here!!! EEEEP!!! Exciting!! Sort of!! I'm determined to take the kiddos tubing down BirchHill!! And I'm trying to talk my hubby into taking our son to a hockey game!! I firmly believe he would LOVE it!! LOVE it!!!
Love: when my son comes up and asks for hugs and kisses.
Hate: neck kinks. Ouch!

PS: If you're questioning the title, we're on a scooby doo kick in our house. *sigh*