Happy Friday.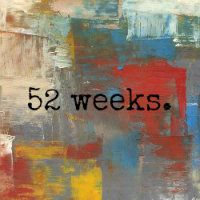 This week I made a 3 hour trip (twice) to adopt this sweet puppy with the help of several people.
After I made a facebook status about it, only to get an email a few minutes later from my lovely friend, Jessica of Girl Booklet saying that I need to update that status to include that anyone that bought an ad from me would get one from her as well-two for the price of one-in hopes to help me raise money to adopt her. Updated status, lots of ad spaces bought, and a blog post made about it, I was almost there! Then my friend, Tawny messaged (and called) me to ask how much more I needed. Within a few hours (once she got home) there was the exact amount sitting in my paypal account.
A few more ads were bought so I actually ended up with a bit over what I needed. So I made a trip to the thrift store.
I had read that the shelter was in need of donations: blankets and towels, so I used the extra money I raised to buy a few and while there I started talking to one of the ladies that worked there. She told me she'd check the back for me to see if they had any and I just assumed she meant that they just hadn't put out yet. Imagine my surprise when she came back with the manager who then informed me that that's what they do with all the linens that get donated to them that they can't sell! She sent the lady into the back to check for me and came back with a trash bag full of em! I ended up dropping off two full bags for them!
This week just made me so happy! So many people helped out in raising the money to save her and keep her from being put down.
But as quickly as all of that happened and as quickly as I was reminded that there are really amazing people out there, I was just as quickly reminded that some people don't take too kindly to good deeds. I actually really upset someone this week.
I'm a bit taken back by the response I received, it actually made me question this whole 52 weeks project and made me want to quit all together. I've also noticed that I've seemed to interact with people in the blogging world–social media friends a lot less than normal after this experience. I feel like I'm just walking on eggshells and that greatly upsets me.
I'll probably be back next week with week 13 but I don't see it being anything major or anything big. This experience just made me a lot more cautious about the good deeds I try to do. Which makes me really sad because I started this project in attempts to just brighten a few days because I'd been having such a hard time and such a crappy time that I just thought, "I don't want others to go through this…. I'm going to make sure to make someone happy AT LEAST once a week" and now I'm just kind of crushed. I'll get over it. I'll be back, but right now….. I just don't even know if I really want to continue this.
Oh on a brighter note, Lucy. Her name will be Lucy. David inadvertently came up with the name while spouting off names he thought I'd find entertaining. He said, "Lucy….. in the sky with diamonds" and I laughed but then thought, "Oh I do like that".
And since we have a Bo Duke I thought that Lucy seemed like the female equivalent to Luke Duke.
That's completely logical right?! Also, I'm a die hard Beatles fan (I blame my Aunt Dee Dee) and so when he said that I just got a bit giddy and have had the song stuck in my head for days now.